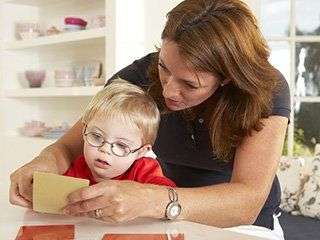 The cognitive differences of special needs children and adults are well-documented, but vision issues often receive less attention. People with special needs have the same range of vision issues as their neurotypical counterparts; however, these vision problems occur at a much higher rate in special needs populations. Involving optometrists in your loved one's care team allows their vision issues to be addressed alongside cognitive, behavioral, and other issues.
What Special Needs Populations May Have Additional Vision Issues?
Although many people with special needs have perfect eyesight, it is important to receive a comprehensive eye exam to rule out potential problems that may contribute to learning or behavioral difficulties. The following populations are at increased risk of vision problems requiring special treatment:
Down Syndrome. More than half of kids and adults with Down Syndrome have some form of eye problems, including tear duct abnormalities, early age cataracts, accommodative dysfunction, or strabismus (eye misalignment).
Autism spectrum disorder. A diagnosis ranging from Asperger's syndrome to severe neurobehavioral problems, children with autism spectrum disorder display a range of cognitive and behavioral difficulties. Behaviors such as poor eye contact, sensitivity to light, atypical reactions to visual stimuli, or looking through or beyond objects are common. Some of these behaviors may be due to direct vision problems, such as problems with focusing or relaying visual messages to the brain.
Fragile X. Individuals with Fragile X, a genetic disorder that more often impacts boys, may have difficulty with hand-eye coordination, spatial awareness, and visual sequencing. These vision issues often lead to learning difficulties.
Premature birth. Children born prematurely may have difficulty with vision or visual processing. A thorough eye exam can diagnose subtle vision problems that impact typical development
Vision Therapy for Special Needs
After careful diagnosis of eye disorders, your optometrist can recommend a range of treatment options to correct vision problems. In some cases, simply using corrective lenses can improve visual acuity and attention. For other individuals, vision therapy may be needed.
Vision therapy retrains the eyes and brain to react differently to visual stimuli. For example, someone with hand-eye coordination difficulty might practice reaching, grasping, and following objects visually. Vision therapy typically includes in-office sessions to master key skills, followed by at-home practice exercises. Successful vision therapy may significantly improve visual attention and positively impact overall learning ability in those with special needs.